Our inventory is carefully (painstakingly!) selected & skillfully repaired.
A 7-day trial period is available.
While finding your next horn and after you purchase it, we offer individualized, expert advice & support if you need it.
Got Questions?
Ask James!
More About Our Professionals
Dr. James Hampson first learned about the natural horn in a Mozart Opera class while pursuing a degree in Electrical Engineering. He became so fascinated with it that he decided that day to make music his career.
Twelve years later he holds a Doctorate from Boston University in Historical Performance on natural and historic horns as the first person in the country to pursue this degree. Dr. Hampson has performed all over the United States with period orchestras and teaches a natural horn course at Oberlin Conservatory of Music. He can be heard on Handel and Haydn Society's live recording, Haydn Vol. 1, and Clarion Music Society's Judas Maccabaeus.
Dr. Hampson loves connecting with colleagues around the world & finding unique instruments that bring music to life. He is excited to bring his ten years of experience scouring the internet, garage sales, attics, for rare instruments to help you find your next horn.
Outside of music his hobbies include hiking, kayaking, and being a stay-at-home dad to twin boys!
"James is a consummate professional, whether on stage or off. He has an encyclopedic knowledge of the development of the horn and its repertoire and his attention to detail informs his uncanny ability to find the best possible instruments for his clients." — Thomas Carroll, period clarinetist & instrument builder
Read About Us
Learn more about James Hampson and this blossoming operation.
Our repair technicians ensure that your new horn is ready for you to play confidently.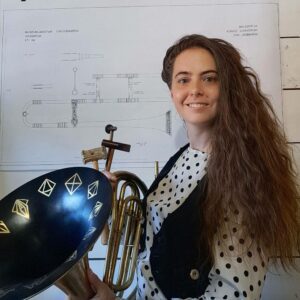 Susan Anderson, Jackalope Brassworks
Susan Anderson got her start in brass instrument repair during her undergrad years at the University of North Texas. In 2012 she began Jackalope Brassworks as she was completing her Master's in horn performance at the University of Oregon in Eugene, OR. After several years of instrument repair work for music stores in Portland Susan is taking on Jackalope Brassworks full time. "Fixing an instrument so a customer can make music again is one of the most rewarding occupations I can think of. I will work to accommodate any request, special need, or schedule to the utmost of my abilities in order to get you playing again."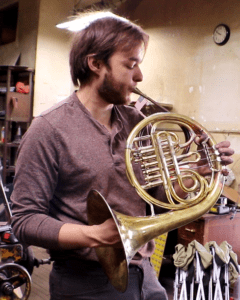 Miles O'Malley, O'Malley Brass Instruments
Miles started learning to repair and manufacture brass instruments when he was 15 years old using limited tooling. Ever since he has worked tirelessly to collect a diverse collection of tooling and learn the necessary skills to tackle any task. Miles specializes in the design and development of components and tooling to make musical instruments. Whether it is a one off reproduction of an obsolete part or a production run of a component he is equipped to do it. He also makes historical reproductions from the baroque period to the romantic era.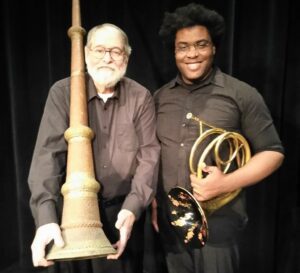 Van Parker, Freelancer and Repair Tech
Van Parker enjoys a dynamic career as a highly sought-after orchestral and chamber musician, soloist, recording artist, new music collaborator, and music educator. He was an apprentice of Lowell Greer learning instrument repair and building. Van is an advocate for the works of living composers and has participated in premieres of works by Eric Whitacre, Lewis Nielsen, and Indiana-based composer Deborah Phelps, from whom he commissioned the piece Cui Bono, a duet for horn and violin.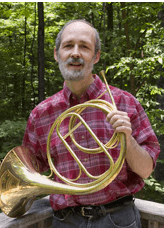 Richard Seraphinoff, Historical Reproductions and Restorations
Richard Seraphinoff has been producing accurate copies of 18th and 19th century horns since 1983. His concept of making historical horns is that of making a fine playing instrument, copied as directly and meticulously as possible from an original from a specific period, with as few compromises and alterations as possible. He's done many restorations for museums and private collections on horns and other brass instruments going back to the beginning of the 18th century. The oldest horn that he's restored was a fixed pitch F horn made by John Harris in London dated 1715.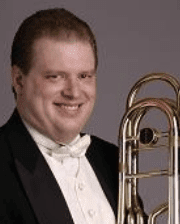 J.c. Sherman, Variations in Brass
As an instrument maker and technician, J.c. served his apprenticeship with Kevin Dunipace and Tom Ianni at Academy Music Co. in Cleveland Heights, Ohio. He now specializes in creating specialized instruments, historic restorations and replicas, and quality repairs for professional brass musicians nationwide. His instruments and mouthpieces have been used across the country from the Cleveland Orchestra to UCLA, and from private collections to museums.